4 Best Volleyball Knee Pads
Volleyball knee pads are an essential part of any volleyball player's gear. They protect the knees from the hard surface of the court and help prevent injuries. Volleyball knee pads come in a variety of sizes, colors, and styles to fit any player's needs.
When choosing volleyball knee pads, it is important to consider the material they are made of. Knee pads made of breathable materials will help keep you cool and dry during long matches. Padding is also important for comfort and protection. Look for knee pads with thick padding that will cushion your knees without being too bulky.
Size is another important consideration when selecting volleyball knee pads. They should fit snugly, but not too tightly, and remain in place while you move. To get the ideal fit, make sure to try on several sizes.
Finally, choose a style that you like! There are numerous colors and designs to select from. Whether you want something bright and bold or more subtle, there is a pair of knee pads out there for you.
We evaluated a number of volleyball kneepads to identify the ones that offer the best fit, comfort, and value while still offering your knees adequate padding and protection. We took into consideration the many needs and roles that players and parents can have, such as the finest kneepads for liberos, setters, and young players.
IN THIS ARTICLE, WE'VE LISTED SOME OF THE BEST VOLLEYBALL KNEE PADS THAT ARE WORTH CONSIDERING.
Mizuno LR6 Volleyball Kneepad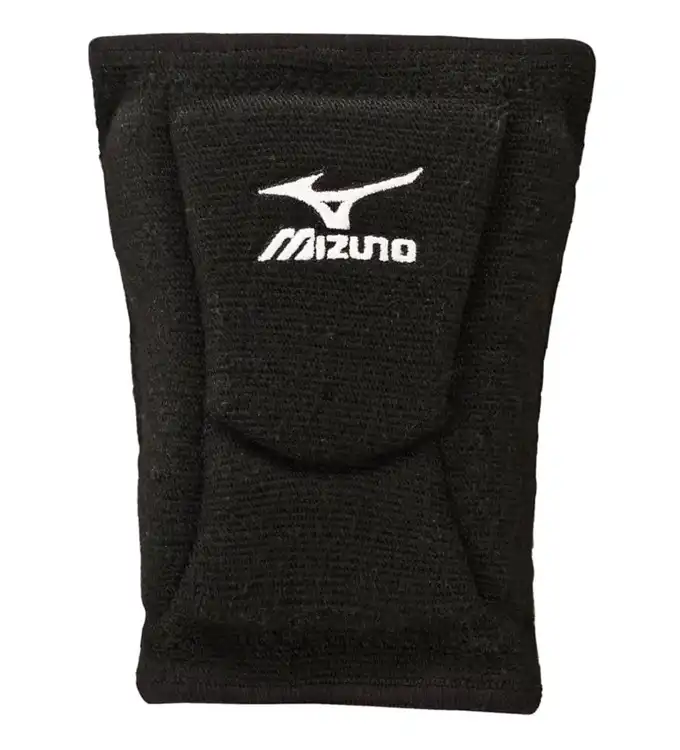 Excellent fit, protection, and design without restricting movement.

Mizuno LR6 knee pads are the best on the market due to their protective design, comfortable fit, and stylish look. In addition to the front, they also offer excellent side protection. If you frequently need to dig and dive, you won't hesitate since you'll be confident that you'll be covered while you go for the ball.
Furthermore, they are made to be more flexible than other kneepads without the need for frequent adjustment. These kneepads have proven to be popular with all players, but notably liberos, for a second reason.
Mizuno's LR6 knee pads are built to last with their high-quality construction and materials that can take a beating. It's the perfect choice for players who need reliable and durable knee pads that performs consistently.
Nike Essentials Knee Pads
These knee pads will keep you comfortable with their soft padding and Dri-FIT liner.
Comfort is the main focus of the Nike Essentials Volleyball Knee Pads. The Nike Essentials may be the kneepads you've been looking for if you've had trouble finding a pair that is cozy to wear on the court.
By allowing moisture to evaporate, the Dri-FIT liner keeps you cool and helps you prevent unpleasant odors, irritation, and rashes. Your ability to move freely around the court is made possible by their low-profile design.
Being constructed of high-density foam that is soft to further increase comfort and provide excellent protection.
ASICS Volleyball Low Profile Knee Pads
A fantastic choice for setters
When it comes to kneepads and shoes for volleyball, ASICS is a top manufacturer.
In high-impact areas, they use a Gel Cushioning system to effectively absorb shock and impact for improved protection.
The kneepads are properly shaped for the left and right knees, unlike those from other manufacturers whose kneepads can sometimes be used on either side. This improves performance, comfort, and fit.
One thing to keep in mind is that ASICS makes these in a one-size-fits-all style.
Mizuno T10 Plus Kneepad
Particularly made for youth.
If you're looking specifically for kneepads for kids, the Mizuno T10 Plus is the ideal one.
Mizuno T10 Plus Kneepads that are designed for smaller players usually have an adjusted sleeve length and width to accommodate shorter and thinner legs.
The T10 pads are comfortable for your kid's knees and offer great protection.
How do knee pads protect your knees?
Knee pads are an important piece of protective gear for volleyball players. They help absorb impact and protect the knees from abrasions and other injuries.
Volleyball is a high-impact sport that puts a lot of stress on the knees. Knee pads can help reduce the risk of injury by absorbing some of the impacts and protecting the knees from abrasion.
There are a variety of knee pads available on the market, so it's important to choose ones that fit well and offer adequate protection.
The different types of volleyball knee pads
Volleyball knee pads come in a variety of shapes, sizes, and materials. The most common type of volleyball knee pad is the slip-on style, which is simply a pad that slides over the knee. Other popular types include the hinged knee pad, which has two separate pieces that hinge together at the kneecap, and the patella stabilizing knee pad, which has an elastic strap that goes around the back of the leg to help keep the pad in place.
There are also several different materials used to make volleyball knee pads. The most common is neoprene, which is a synthetic rubber that is lightweight and durable. Other popular materials used in making volleyball knee pads include polyurethane and EVA foam. Every material has benefits and drawbacks of its own, so it's crucial to select one that will meet your demands the best.
Finally, there are also a few different brands of volleyball knee pads on the market today. Some of the most popular brands include Mueller Sports Medicine, Nike Volleyball, and Asics Volleyball. Again, each brand has its own unique features and benefits, so it's important to choose one that will work best for your needs.
How to choose the right volleyball knee pads
There are a few things to consider when purchasing volleyball knee pads. The first is the level of protection you need. If you are a recreational player, you can get away with lighter, less expensive pads. However, if you play competitively or in a higher division, it is worth investing in heavier-duty pads for better protection.
The next thing to consider is the fit. Knee pads should be snug but not too tight. They should also allow for a full range of motion so you can jump and dive without restriction.
Finally, think about the materials the pads are made from. Most are constructed with neoprene or other synthetic materials. Some brands also use gel or foam inserts for additional cushioning. Experiment with different types to see what works best for you and your budget.
Care instructions for volleyball knee pads
If you are an avid volleyball player, you know that knee pads are an essential piece of gear. They protect your knees from the impact of diving for a ball or landing after a spike. But how do you care for your knee pads so they last?
Here are some tips:
Wash them after each use. This will help remove any dirt or debris that can cause the pads to break down over time.
Air dry them. Avoid putting them in the dryer, as this can also break down the materials quicker.
When not in use, keep them in a cool, dry location. A storage bag specifically designed for knee pads is ideal.
By following these simple tips, you can extend the life of your volleyball knee pads and ensure they continue to protect your knees during every game!
The benefits of wearing volleyball knee pads
Volleyball knee pads are beneficial because they protect your knees from impact, help prevent injuries, and can improve your performance. Wearing knee pads can help reduce the risk of getting injured, especially if you play on hard surfaces. They can also help improve your performance by providing support and stability to your knees.
The bottom line on volleyball knee pads
Knee pads for volleyball are a necessary item of gear for every player. Your knees are shielded from the impact of the ball and the hard floor by them. There are many different types and brands of knee pads available, so it is important to choose the right one for you.
The bottom line of volleyball knee pads is that they are a necessary piece of equipment for any volleyball player. They offer protection from the impact of the ball and the hard floor and can help prevent injuries. With so many different types and brands available, it is important to choose the right one for you.